Goose on the Loose
A downloadable game for Windows
An homage to George Mason's ornery bird population, Goose on the Loose is an endless 2D action game in which players take on the role of the campus antiheroes: geese. Ongoing construction has brought chaos to the goose kingdom, and it's time to fight back. Coordinate bumbling flight physics to bonk construction workers on the head and force them to halt their work, but be careful! It is a well-known fact that geese are bloodthirsty creatures, so the construction crew has come prepared with defenses. Dodge attacks from foes, don't hurt your allies, and battle to be the supreme goose!
Goose on the Loose is an action platformer inspired by Yoshio Sakamoto's Balloon Fight for the NES. 1 to 4 players choose a Goose and duke it out on the many construction sites of George Mason University. Watch out for disgruntled workers, thrown tools, electric shocks, and other Geese as you navigate through the treacherous levels. Get the most points by killing the most enemies, surviving the longest, and not hurting your fellow Geese brothers to become the ultimate Goose king of GMU.

Goose on the Loose: Goose on the loose was originally designed for a Winnitron cabinet but is available to play on PC using the controls listed.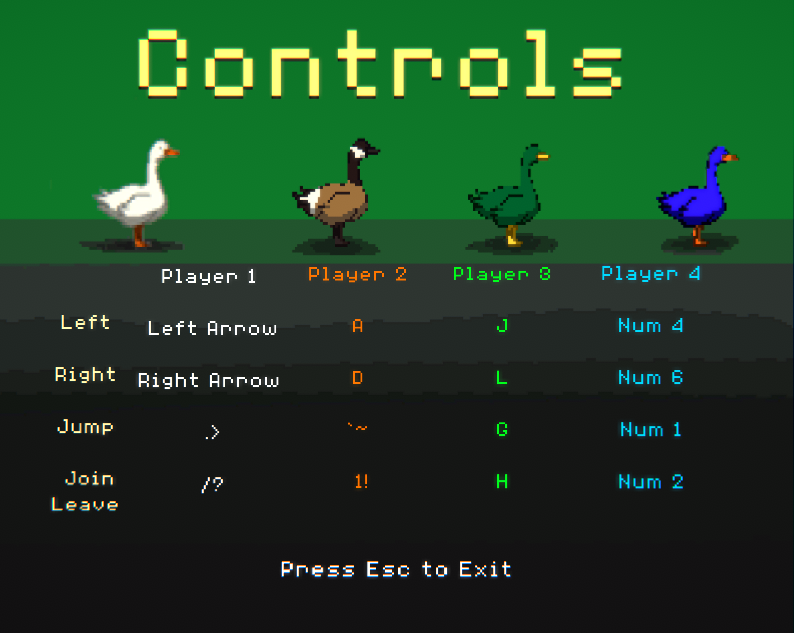 4 selectable characters: The four characters that you can select are different types of geese, player is the white goose, player two is the Canadian goose, players three and four are the blue and green geese.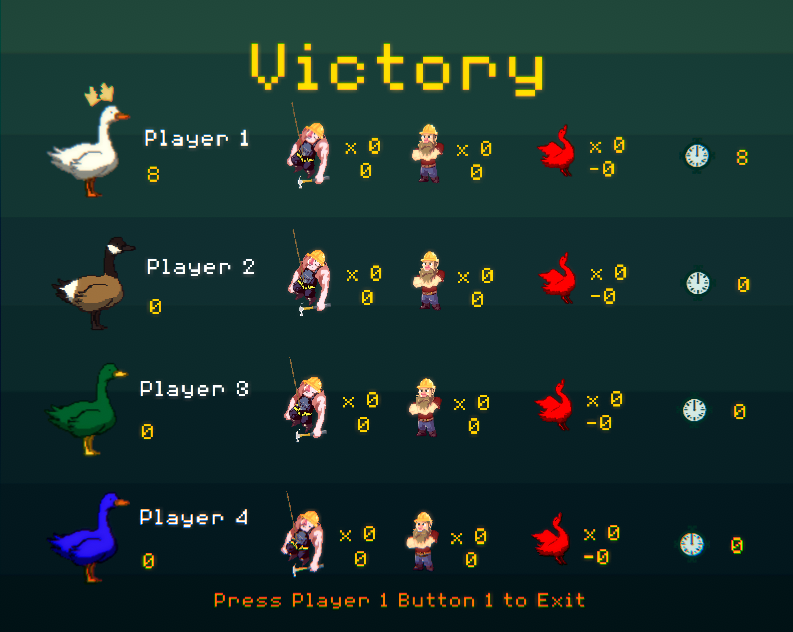 Become the Goose King:

Collect powerups to recover lost health and to stay in the fight longer and to outlast your rivals.
Stomp some heads and kill enemies to earn points and to outplay your rivals on your quest to becoming the Goose king of GMU. Killing the most enemies will show your prowess in combat and is the easiest way to become king of the Geese.
Don't kill your rivals, you are competing to be king and who will serve a murderous king? Killing a player will result in deduction in points and will hurt your efforts on being the Goose king.
Stay alive, simply outlasting your rivals will also be a great testament to the other geese of GMU on your vitality and endurance. For every second that you are alive in the level you are granted points, even the quiet ones can become king.
Play with up to 3 friends all on the same screen. Be careful not to run into enemies, take it slow and don't rush your victory on becoming Goose king of GMU.
Download
Download
Goose on the Loose_Windows.zip
30 MB