FIRE AND RESCUE
A downloadable game for Windows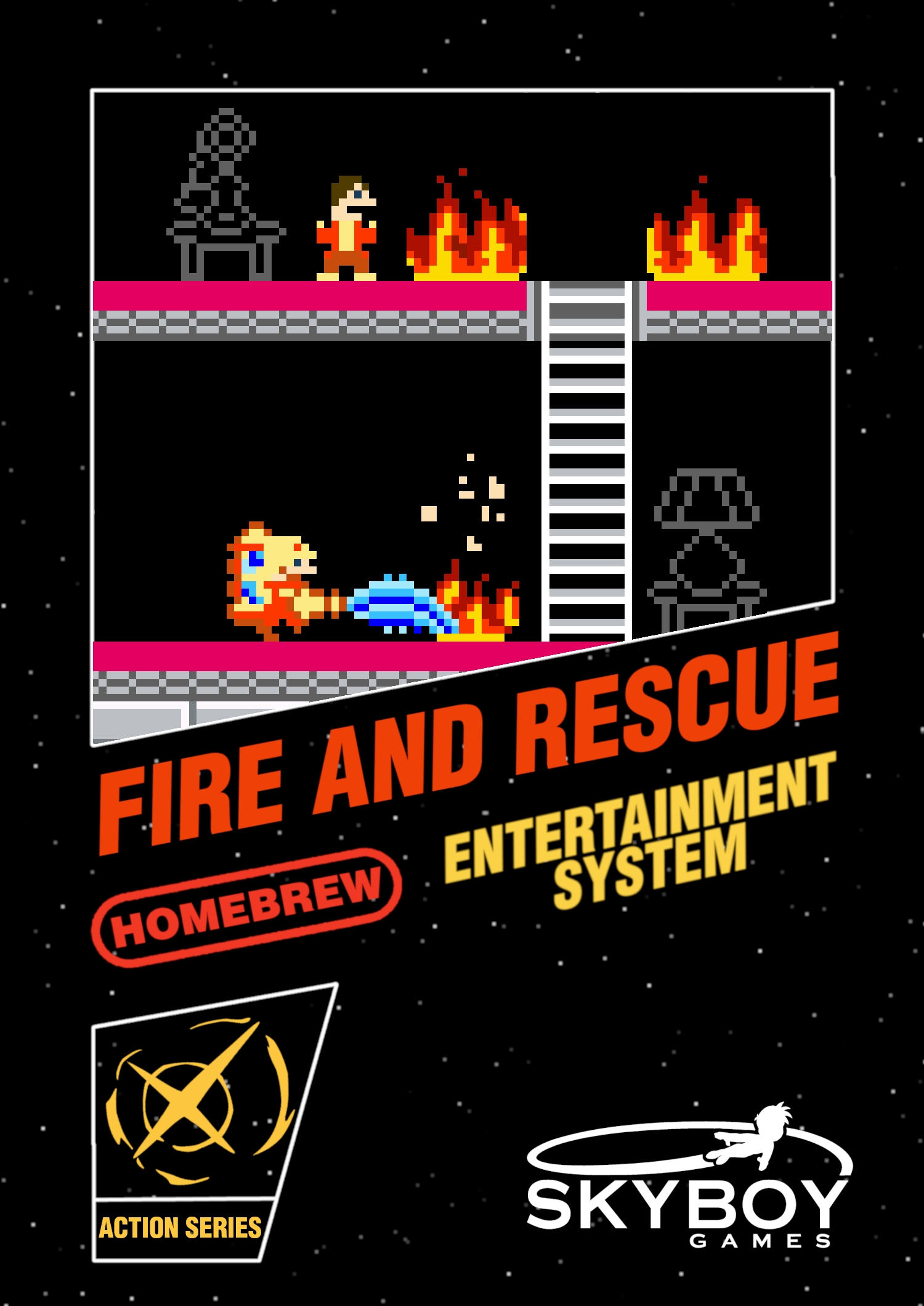 ---
Authentic Nintendo Entertainment System Homebrew
---
Step into the boots of the brave members of the FIRE AND RESCUE team.
Fires have broken out all over the city and YOU (and maybe a friend) are the only one(s) who can save the city from being reduced to ashes!
Use your portable water tank to extinguish raging fires and carry innocent civilians to safety.
Play by yourself or simultaneously with a friend to see who is the best fire-fighter in FIRE AND RESCUE!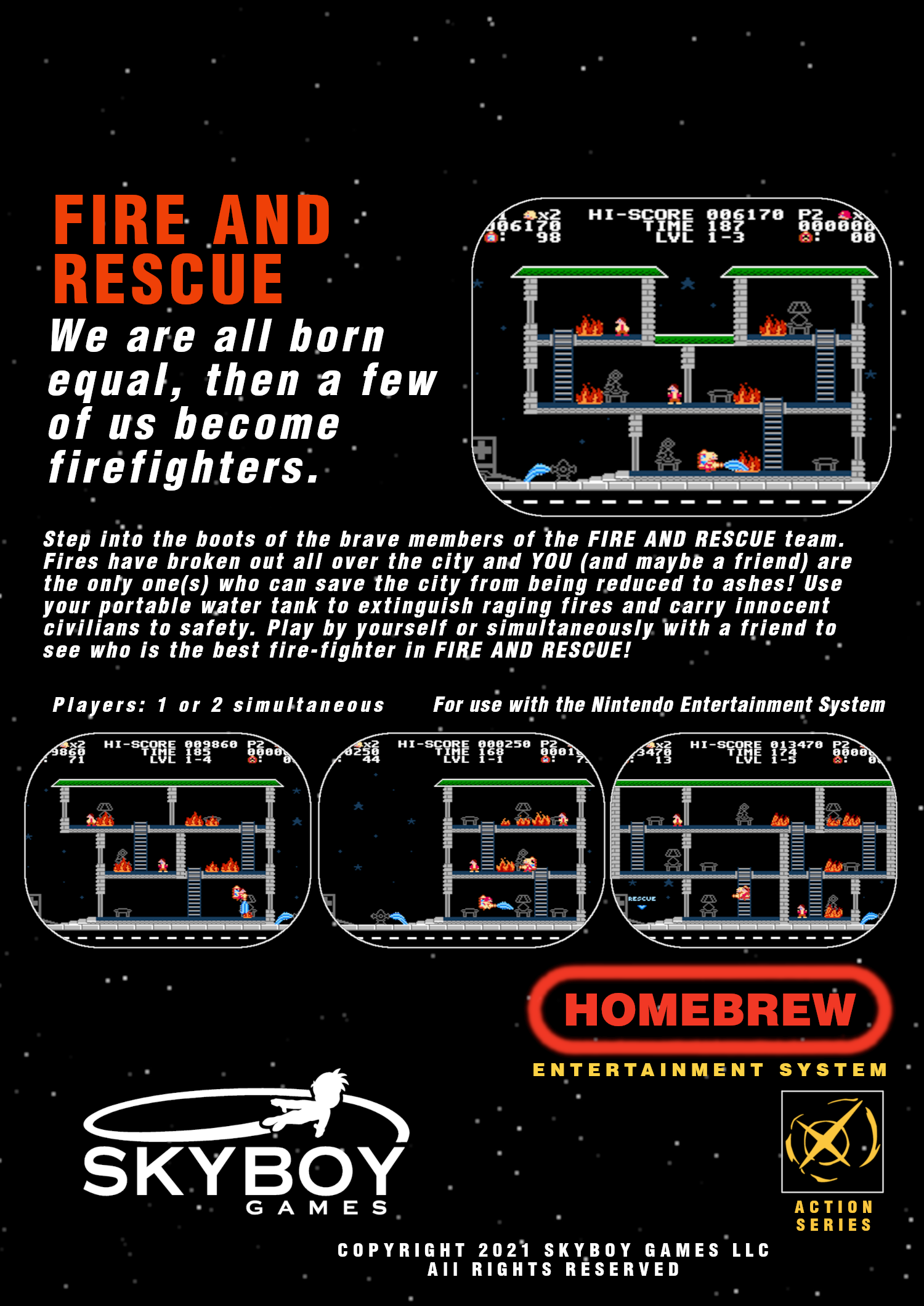 ---
CONTROLS
D-PAD: (Left/right) Move left or right; (Up/Down) While in front of ladders, climb up/down ladders; (Down) While jumping, point water nozzle down
A: Jump
B: Spray water; While jumping and pressing down, spray water downwards
SELECT: Select options on title menu
START: Choose option on title menu; Pause/unpause game
---
SCORING

Extinguishing Fires - 50/100/150/200 points depending on size of fire
Extinguishing Fires with a Downspray – 100/200/250/300 points depending on size of fire
Rescuing Civilians - 100 points
Picking up a Helmet Power-up while wearing a Helmet - 250 points
Picking up a Water Tank Power-up with a Full Water Tank - 500 points
Additional bonus points can be earned on the Stage Results screen
---
Digital Download Now Available!
The download version of FIRE AND RESCUE is available here, at itch.io. There are two flavors of download available:
Zip file with NES ROM bundled with FCEUX, a NES emulator

Unzip the zip file and double-click PlayGame.bat to play the game

NES ROM Itself

You can run this ROM in your NES emulator of choice, or even burn it to an NROM-256 compatible cartridge
---
Physical Release Information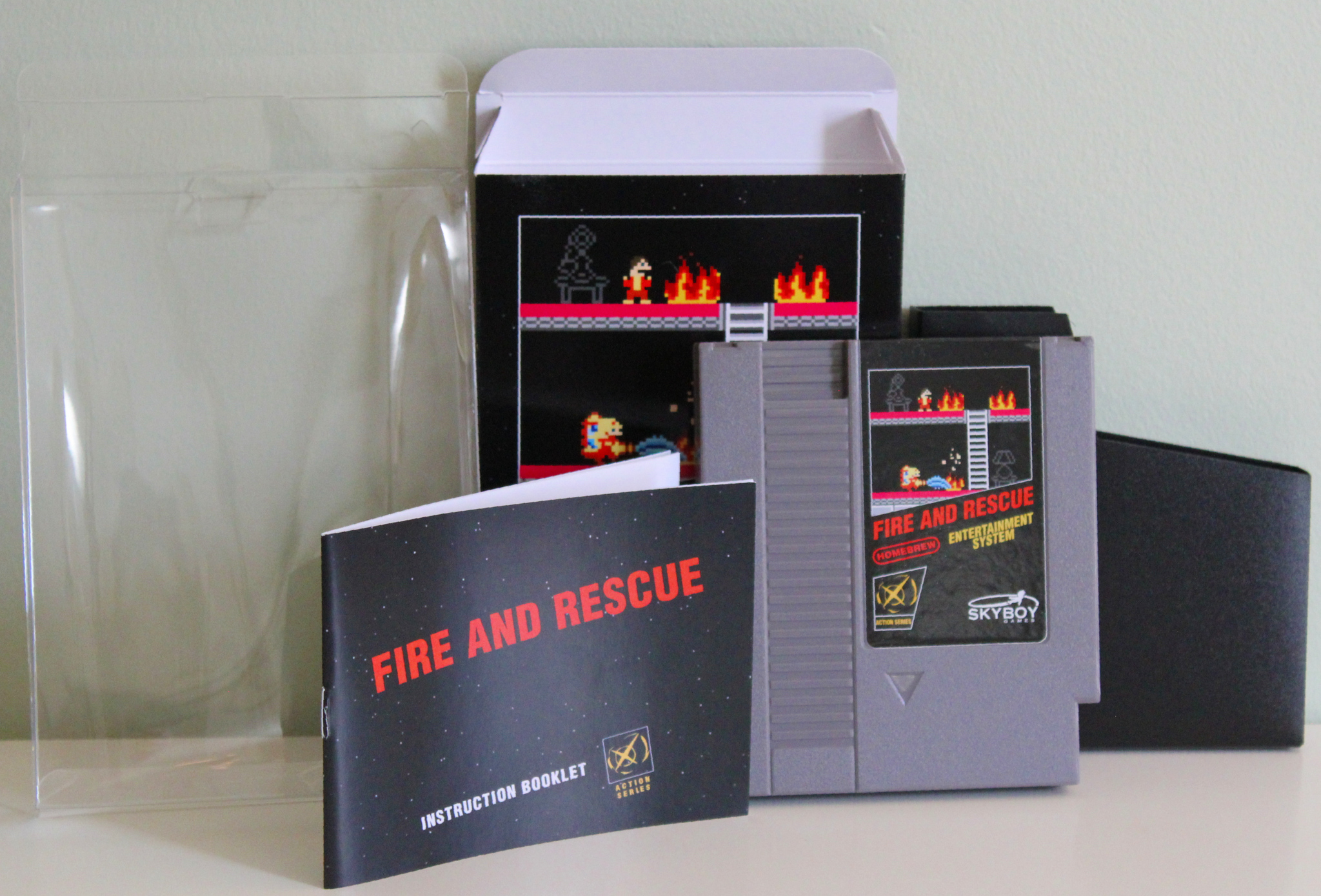 Physical versions of FIRE AND RESCUE are available here:
https://skyboygames.com/store/#fire_and_rescue

Purchase includes box, manual, and a NES cart that runs in real NES's and other compatible retro systems!
For the lastest info on the physical release and other info, subscribe to our newsletter here:
http://www.getrevue.co/profile/skyboygames

---
Purchase
In order to download this game you must purchase it at or above the minimum price of $5 USD. You will get access to the following files:
fire_rescue_2_0.nes
40 kB
fire_rescue_1_1.nes
40 kB