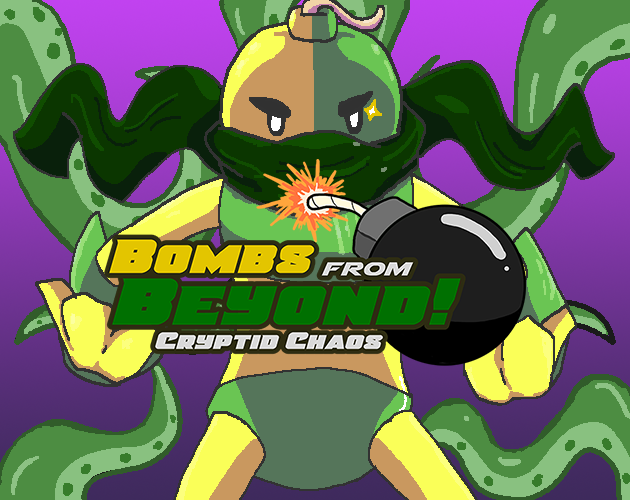 Bombs from Beyond
A downloadable game for Windows
Developed by:
Aiden Tamke

Matthew Daigneault

Grace Lee

Charles Jennings

Jason Hur

James Gray

Zachary Fischer

Connor Hoss

Ryan Facklam

Nicholas Garthright

Jacob Boris

Donny Aruda

Sam Wheeler

Bryce Bryneston

Jackson Romero

Del Sims

Ceasar Howe

Shannon Chong

Joseph Chung

Michael Christon

Anna Waldrop

Nina Johnson

Noah Brennan

Daniel Truong

Scott Martin
Bombs from Beyond pits a player against up to three opponents, either players or computer-controlled, and the player must eliminate their opponents within five minutes by using both the bombs in their possession and the dangers found on the levels themselves.
Bombs from Beyond Features:
Fast-paced action for up to four players simultaneously

Destructible environments change the flow of the game

A variety of stage hazards challenge the player across six different levels.

Focus on strategic play, using bombs to outwit your opponents!

A cute, colorful art style combined with a Lovecraft-inspired aesthetic bring a unique look to each level
Basic Rules:
Players have seven lives each

Each player can place a maximum of two bombs at a time

Bombs explode on a three-second timer

Players will lose a life each time they are hit by an explosion, whether it be by an opponent's bomb or their own

If two or more players survive until time expires, the player with the most lives wins by default

Stage hazards, such as bees or zombie hands, may stun the player or preemptively detonate bombs.

Some entities, such as trees or steel beams, will interact with players' bombs and may become damaged or move across the stage when too close to an explosion.